Space Goblins!
You are all Goblins, congratulations!
You are also all barreling through space in a ship made of junk and scrap, how lucky! Your goal: to make it to Junktopia, the rogue planet in the middle of space, a utopia for the Goblins, with your ship intact and as much Junk as you can to further its beauty!
Space Goblins! is a HIGH CHAOS AND TRULY OUTRAGEOUS RPG meant for 2-5 players with rotating referee play and an emphasis on wild Goblin-created mayhem!

Use any interlocking plastic building block collection, such as Lego, as your Junk collection, building up and breaking down your Junk Ship as you play with all the other Goblins!
Create Goblins that embody the most Goblin of stats: Scrapper, Tinkerer, Rascal, and Rude!
Collaboratively create your Junkship that embodies the most Goblin of design elements: Rough, Tough, Scoot, and Shoot!
Roll an unnecessary amount of d8s together to figure out what ship you crash into when looking for Junk!
Set Game Length of 3-5-8 rounds allows you to play a short campaign of Space Goblins! sessions, troupe style play throughout several journeys to Juntktopia, or a very quick and fun one shot!
Space Goblins! is a hack of Tunnel Goons for the Goon Jam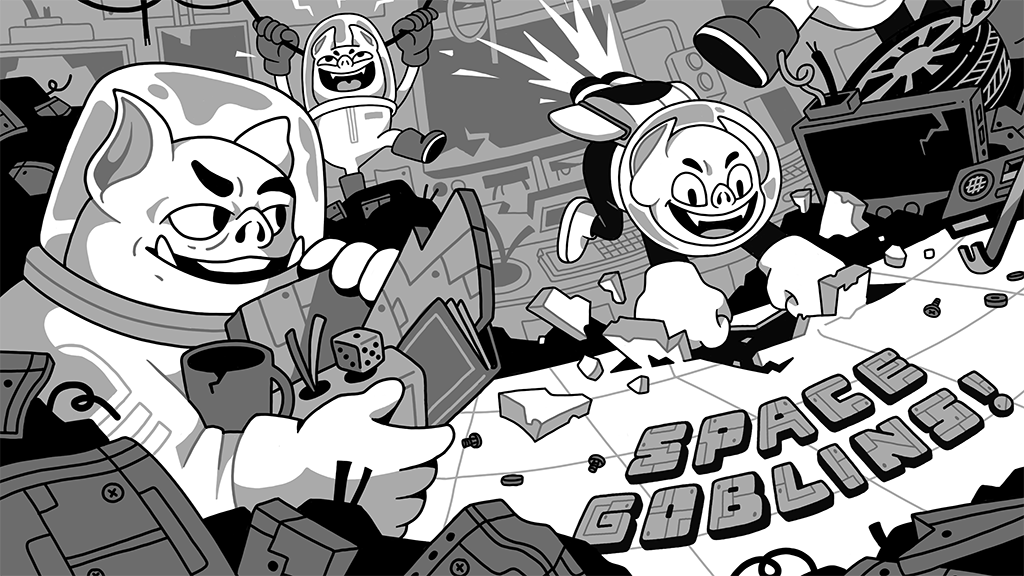 Space Goblins! Post-Kickstarter
Space Goblins! just finished its run on Kickstarter as a part of Zine Quest! The Kickstarter was to bring an illustrator (Glo Wan), a layout artist (Jamila R. Nedjadi) and an editor (Tyler Crumrine) onto the project to make Space Goblins! as great a product as it can be! Those who helped back the Kickstarter are getting the BEAUTIFUL and GOBLIN version in either PDF or Physical Zine form!
But don't worry, even if you missed the Kickstarter, the new version will be available here as soon as it's complete, and in the mean time you're more than welcome to buy the current, fully playable, version here and get the updated game when it hits!
Proceeds from Space Goblins! post-Kickstarter will continue to help fund the project with security over International Shipping, Additional Zine Printing, and the hard work by all the collaborators!
Purchase
In order to download this game you must purchase it at or above the minimum price of $4.80 USD. You will get access to the following files:
Exclusive content
Support this game at or above a special price point to receive something exclusive.
Community Copies
Every time someone buys a copy of 'Til The End Of The Night, another copy is added here for free. Please grab one from the community if you can't afford it!