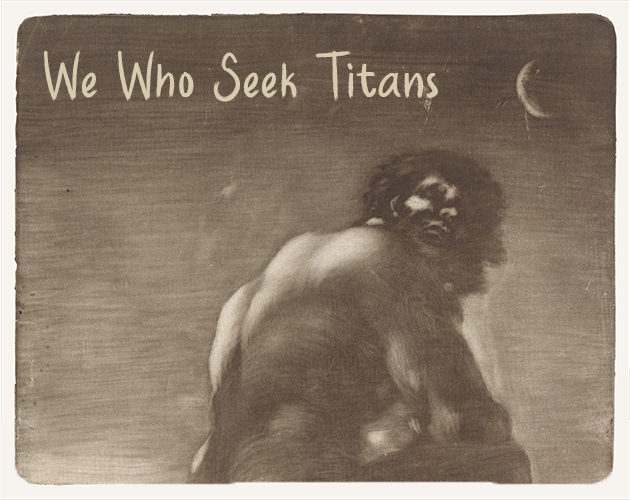 We Who Seek Titans
You seek Titans. More specifically, the remnants of them. Long, long ago these greater beings roamed, and long, long ago they died off. Their bodies fell apart piece by piece as they travel to their ancient grave. You wish to reach this land and record the enormous relics left in its wake.

As you trek this land you'll record your findings, either in prose, drawings, music, factual notes, whatever your chosen medium is. Each of you is interested in different information, but each of you is a necessary piece of the greater picture.
We Who Seek Titans is a record-keeping, worldbuilding, and map making game for 1+ players. Go on a journey as you bask in the glory of the nature, local culture, and the finding answers in history and the land.
WE WHO SEEK TITANS IS IN DEVELOPMENT
This game has been in development for several months now, with playtests under its belt. However, it is not done. What you will find here is a fully playable game that will create an outstanding product within a fulfilling game experience. HOWEVER, it is not edited, does not have proper layout and several other bits of content I would want before I call it done. HOWEVER, I want people to take this game and play it and make from it. And in the process, I want people to put their faith that this game will be better. Every purchase will help me fund editing, lay out, original art, and more content!
Purchase
In order to download this game you must purchase it at or above the minimum price of $10 USD. You will get access to the following files: