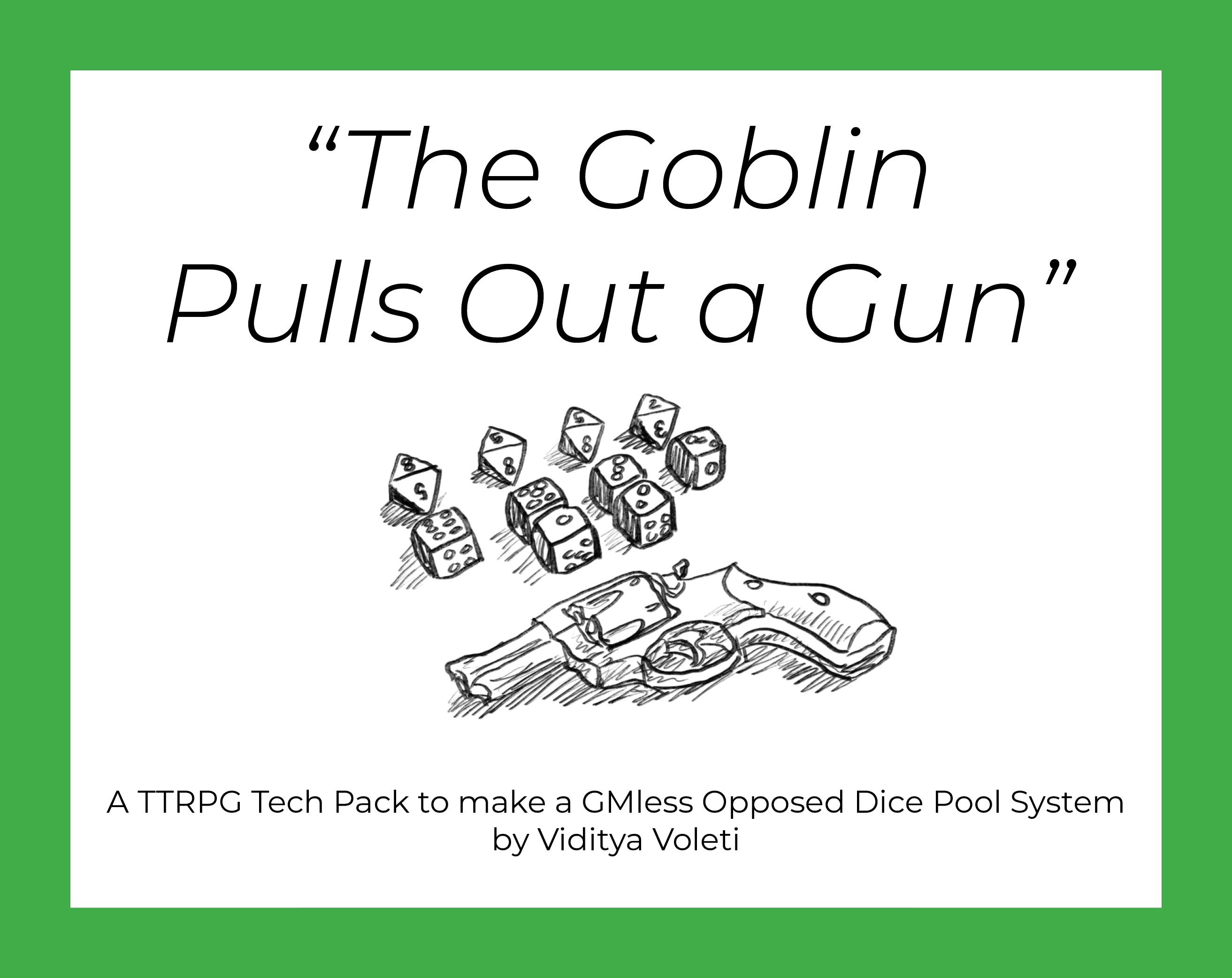 The Goblin Pulls Out A Gun - A TTRPG Tech Pack
"The Goblin Pulls Out A Gun" is a TTRPG Tech Pack to make a GMless Opposed Dice Pool System.
By building off this tech pack's core dice mechanic you will be able to make: an engaging system for GMless scene resolution handling concurrent outcomes and player-driven choice in narrative-focused results.
It is also, technically, a fully playable game! Albeit a very loose one, incredibly rules-lite and generic, but you can play it out the box and it'll be INCREDIBLY fun!
Provided in this tech pack is:
A core system based around building two opposed dice pools that favor a lot of roleplaying, fictional modifiers, and collaborative decisions in deciding what outcomes occur after rolling dice
Examples of what these outcomes look like, as well as a full play example explaining the process.
Helpful guidelines to help you decide why you should use this system for your game, why I designed it, and what it excels at
Helpful definitions of some of the terminology I use and decisions I made
Why this system is GMless!
Tips on how I would run this system out the box without adding much to it and play advice
A plethora of tips and insight into my decisions for what I'd encourage you to hack apart, the reasons I designed things so you can decide how much you want to ignore me, and suggestions on where to flesh this system out!
Smattered in those tips are also just general game design tips you could use in any system, not necessarily this one!
Licensing and Attribution text under the Creative Commons Attribution 4.0 International
As you can see - this is quite a lot! I think this is a really cool piece of game design and I believe there are so many directions someone could go with it! And that someone could be you!
Download
Click download now to get access to the following files:
The Goblin Pulls Out a Gun - Pages.pdf
655 kB
The Goblin Pulls Out a Gun - Speads.pdf
631 kB